The Croydon Parish Defibrillator is now operational, and was registered in July 2021 .  It is fully automatic and provides full guidance. 
When safe to do so, we will offer a training course on its use. In the meantime why not prepare by watching the video below.
Access to the Defibrillator is only via a 999 call. If appropriate, the Ambulance service will provide an access code.
Location: Old Telephone Kiosk, Clopton Close on High Street. SG8 0DT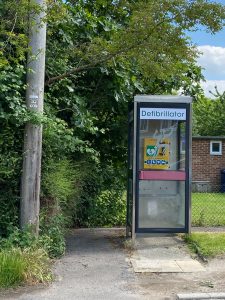 Training: Watch a training video HERE
The Defibrillator was provided using funds from the Croydon Parish Community Fund.
A rota of volunteers will regularly monitor the Defibrillator, to ensure it is in working order. If you would like to join them in this important task please contact the PC Clerk
Looking for more in Croydon?